You may be in Idaho and your merchandise may be in Poughkeepsie but you're no further away than your computer screen. Our state-of-the-art communication system offers access to consignment tracking and POD interrog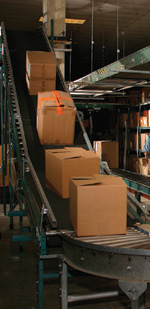 ation and retrieval. Go online and track - in real time - your inventory from the minute it arrives at our warehouse to its final distribution destination anywhere in the country. Your POD is scanned and transmitted via e-mail daily so the information is up-to-date. Want to see the actual signed receipt of merchandise? It's on your computer screen.


A continuous electronic exchange and flow of information precludes data entry error. In addition, we offer EDT (Electronic Data Transmittal) for transmitting your Inbound-freight Packing Lists, Bills of Lading Transmittals, and Warehouse Releases directly to our traffic office. Moreover our EDT interfaces with our customers' computer systems to ensure accuracy, decrease order cycle time and improve overall levels of customer service. An open exchange of information with our customers is a hallmark of the Sea Jet experience. You will get management reports, inventory reports, statistical analysis reports, labor reports and more.